Facial is a procedure involving a variety of skin treatments, including: steam, exfoliation, extraction, creams, lotions, facial masks, peels, and massage. They are normally performed in beauty salons but are also a common spa treatment. Facials are generally categorized, for example:
. European facial
. LED light therapy facial
. Mini-facial
Facials are used for general skin health as well as for specific skin conditions.
Facial mask
There are different kinds of masks (e.g. cactus, cucumber, etc.) for different purposes: deep-cleansing, by penetrating the pores; healing acne scars or hyper-pigmentation; brightening, for a gradual illumination of the skin tone. Some masks are designed to dry or solidify on the face, almost like plaster; others just remain wet. The perceived effects of a facial mask treatment include revitalizing, healing, or refreshing; and, may yield temporary or long-term benefits (depending on environmental, dietary, and other skincare factors). Masks are removed by either rinsing the face with water, wiping off with a damp cloth, or peeling off of the face. Duration for wearing a mask varies with the type of mask, and manufacturer's usage instructions. The time can range from a few minutes to overnight. Those with sensitive skin are advised to first test out the mask on a small portion of the skin, in order to check for any irritations.[1] Some facial masks are not suited to frequent use. A glycolic mask can only be used once a month without the risk of burning the skin.[citation needed] Masks can be found anywhere from drugstores to department stores, and can vary in consistency and form. Setting masks include: clay, which is a thicker consistency, and will draw out impurities (and sometimes, natural oils, too) from the pores;[2][unreliable source?] a cream, which stays damp to hydrate the skin; sheet-style, in which a paper mask is dampened with liquid to tone and moisturize the skin; and lastly, a hybrid/clay and cream form that includes small beads for removing dead surface skin cells. Non-setting facial masks include warm oil and paraffin wax masks. These different forms are made to suit different skin types (e.g., oily or dry), and different skincare goals or needs (e.g., moisturizing, cleansing, exfoliating). Clay and mud masks suit oily and some "combination" skin types, while cream-based masks tend to suit dry and sensitive skin types.
Shahnaz Gold Facial
The Gold Facial, based on Ayurveda, is a powerful anti-ageing treatment, with revitalizing and rejuvenating effects. Gold is one of the softest metals and is easily absorbed by the skin. It helps lymphatic drainage and facilitates the removal of toxins and wastes. It also stimulates blood circulation and improves skin elasticity, accelerating cell renewal and reversing oxidation damage
Shahnaz Perl Facial
The Perl Facial, a powerful age control treatment, The most potent effect of the Perl is its exfoliating and gentle dermabrasing action, which helps to diminish fine lines and wrinkles. It awakens dormant cells and boosts the skin's metabolic functions. The cellular life of the skin and the regeneration of healthy new cells are enhanced. Based on Ayurveda, the diamond facial is like an elixir of youth for timeless eternal beauty.
Shahnaz Herbal Facial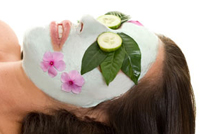 Shahnaz herbal Facial is enriched with almond, sandalwood and other precious ingredients. It provides a deep cleansing treatment, giving sheen and lustre to the skin, tightening the pores and minimising blemishes. It has been used to treat open pores, pigmentation, scars, freckles, wrinkles, dehydration and sun damage